Christmas With A Difference 2018!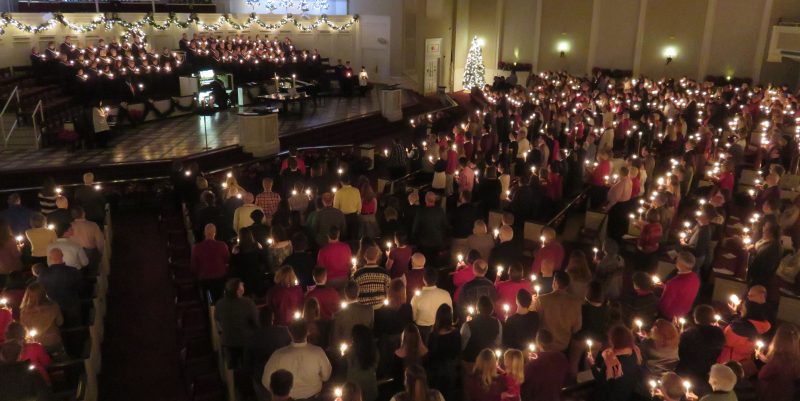 Make this holiday season even more special with these events at Manchester UMC. Be sure to join us for our Christmas Eve services for an inspirational time, full of God's love and grace!
Christmas Eve Services, Dec. 24, Sanctuary
1 p.m. Traditional Worship with communion
3 p.m. Family Christmas Eve Service + # An interactive celebration of Jesus' birth, led by the Children's Ministry, Children's Choirs, and Drama Ministry featuring 'An Emperor's Decree, A Baby's Birth.
5 p.m.  Modern Worship * + > #
7 p.m.  Traditional Worship * >
9 p.m.  Traditional Worship * >
11 p.m. Blended Worship *
# Interpretation for the hearing impaired available
+ Childcare is available for age 2 and under
* Candlelit service
> Communion in the Chapel follows the 5, 7, & 9 services
Note: There is no PRAYground at the Christmas Eve services
Early Christmas Services
Blue Christmas, Dec. 21, 7 p.m. in the Chapel
A somber yet hopeful service for those not necessarily looking forward to Christmas.
Early Christmas Eve Service, Dec. 22, 3:45 & 5 p.m., Chapel
Candlelit services with communion.
Heartwarming Family Events, Concerts, and More!
Christmas Tree Lot, Nov. 23-Dec. 23, 9 a.m.-9 p.m.
Located at 14380 Manchester Rd., sales from the lot support local charities.
Children's Advent Kick-Off, Family Craft & Movie Night, Nov, 30, 5-8 p.m.
Create an Advent craft to guide your family through the season. Then, enjoy pizza and watch the movie, "The Star" (the nativity story told from the animal perspective). Free event. Register by Nov. 29.
Hanging of the Greens, SATURDAY, Dec. 1 ONLY, 5 p.m., Sanctuary
Join the fun as we decorate God's house for Advent on a new day/time. This special service brings us all together for a heartwarming inter-generational family event. Enjoy Christmas carols, fresh homemade cookies, and cocoa afterwards.
Coventry Dinners and Concerts, Dec. 7 (6:30 p.m.) & Dec. 8 (6 p.m.)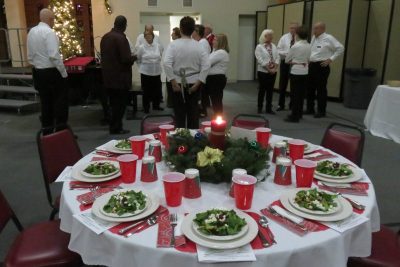 On Friday, enjoy an intimate evening with a catered dinner; tickets $32. On Saturday, enjoy our dessert bar; tickets $10. Both evenings have outstanding holiday music featuring the Coventry Choir and Vesper Bell Choir. Tickets on sale at the Information Center beginning Nov. 4.
Advent Breakfasts, Wednesdays, Nov. 28-Dec. 19, 6:30 a.m. Fellowship Hall

Join us for great food, camaraderie, music, humor, and excellent speakers. This is a full breakfast that will get your day started right! We promise to have you back on the road by 7:30 a.m..
Gifts in White, Dec. 8 & 9
Procession of gifts for charities at both the Saturday evening and Sunday morning services. No Sunday school or PRAYground – please enjoy the service and processional as a family.
Family Night Out, U.S. Bank Wild Lights at the St. Louis Zoo, Dec. 14, 5:45 p.m.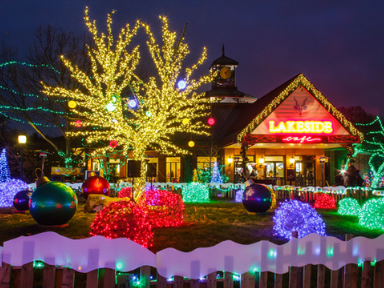 Meet at the St. Louis Zoo's south parking lot. Stroll through the enchanting holiday wonderland and enjoy festive fun for the whole family. Details online. Tickets: $5 per person (children under age 2 free) if you register online by Dec.10.
Christmas Grace, A Special Sermon by Pastor Greg Weeks — Dec. 23, 8, 9:30 & 11 a.m.
Grace is the underlying message of the Gospel. It's time we discover what it really means to live a grace-filled life. Don't miss this sermon. We'll also celebrate the 20th anniversary of our new Sanctuary with special guests, video, and acknowledgments.
Betty Estes Gnaegy Legacy Concert: Sing Christmas! Ring Christmas!, Dec. 23, 7 p.m.
Get in the holiday spirit! Choir, organ, orchestra, and handbell choir present a concert, including many of your favorite carols.
Share this: