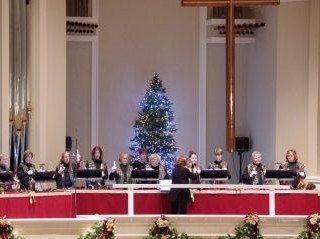 Our Ringing Choirs help you experience the joy of music and the satisfaction of praising God as you serve in cultivating your God-given talents in ministering to our congregation and the community through sharing handbell and handchime music.
All choirs serve monthly in worship, at the annual Fine Arts Celebration, at Hanging of the Greens and at Christmas time. Gifted and blessed with 5 octaves of Schulmerich Handbells and 7 octaves of Malmark Handchimes, our choirs enjoy praising God with their music!
Manchester Bell Choir
A choir for adult and selected youth with intermediate ringing ability.
Rehearsals: Mondays from 7:00-8:30 p.m starting October 7 through May.
Vesper Bell Choir
A choir for advanced youth and adult handbell ringers. *Please note: The demanding schedule requires the highest commitment.
Rehearsals: Tuesdays from 7:00-8:45 p.m. starting September 3 through May.
For more information, contact Sherry Boland, Handbell Program Director or call 636-346-8919.