Latest News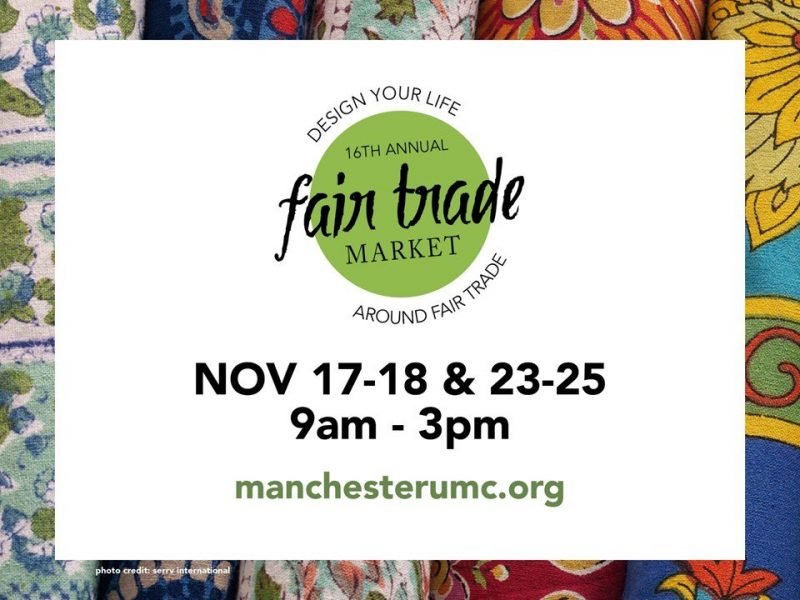 Here's the latest news from Manchester UMC:
Fair Trade Market Opens
Nov. 17-18 and Nov. 23-25, 9a-3p
The nation's largest Fair Trade Market opens this weekend! Find unique gifts, international crafts, exquisite coffee and foods, and much more. You'll be making a difference with every purchase. Visit our webpage for more info.The Music Makers mini-concert is Sat. at 11a. It's a wonderful way to get into the holiday spirit!
Giving Thanks Service
Tues., Nov. 20, 7 p.m., Chapel
Prepare for Thanksgiving by gathering and thanking God for the amazing gifts that we've been blessed with. Rev. Jim Peich, our Executive Pastor of Ministry and Leadership, will share the message.
Coventry Christmas Concerts—Tickets on Sale Now!
Celebrate the season at the Coventry Choir dinner and concerts. Join us Fri., Dec. 7 at 6p; enjoy beef tenderloin or Chicken Sappington: $32. On Sat., Dec. 8, the "Sweet Sounds of Christmas" offers a variety of desserts: $10. Christmas music follows featuring the Coventry Choir and Vesper Bells. Purchase tickets in the lobby or contact Joy Parisien, 636-399-6062
Hanging of the Greens New Day And Time!
Sat., Dec. 1 Only, 5p, Sanctuary
This year, there will only be ONE Hanging of the Greens service, and it will be on SATURDAY! This special service brings us all together for a heartwarming, intergenerational family event. Enjoy Christmas carols, fresh homemade cookies, and cocoa provided by our Young Adult Ministry. On that day, there will be only one Saturday service. Why the change? Check out Pastor Greg's note online.
EVENTS
LGBTQ+ Family Support Network
Tues., Nov. 27, 7p
Do you have an LGBTQ family member? If so, come and experience compassion and understanding as we explore our experiences and faith journeys. Call in confidence (Barb 314-614-1650, or Dave 314-614-5473) with questions or for meeting location.
Prayer Shawl Ministry
Tues., Nov. 20, 7p, Fireside Room
Help knit and crochet prayer shawls, baby blankets, hats, and scarves. At each meeting, we bless these gifts. Yarn is available. Prayer shawls are available in the church office. You do not need to be a member to give or receive a one.
Advent Breakfasts,
Wednesdays, Nov. 28- Dec. 19, 6:30a, Fellowship Hall
Join us for great food, camaraderie, music, humor, and excellent speakers. This is a full breakfast that will get your day started right! We promise to have you back on the road by 7:30a.
Lydia Circle
Thurs., Dec. 6, 9:30a, Rm 141
All women are invited to hear our guest speaker, Rev. Brenda Becker, who will put us in "The Christmas Spirit." Bring hats, gloves, scarves, and flash drives for Epworth youth, who are aging out of the system.
MISSIONS AND SOCIAL JUSTICE
Christmas Tree Lot To Open
Fri., Nov. 23, 9a-9p, 14380 Manchester Rd.
Purchase a tree or volunteer to sell trees! Choose from over 1,500 available. Sales support local charities. The lot requires over 300 volunteers. Sign-up in the lobby or go to our webpage More info: Cliff Hackmann, 636-530-0388; or John Wootten, 636-394-0371
Gifts In White
Dec. 8-9, All Services
Bring gifts (new items only, please) wrapped in plain white paper to benefit those served by partner social service agencies. Complete gift wish lists are available in our newsletter insert, at the Information Center, or online. VOLUNTEERS NEEDED on Dec. 9 to unwrap and bag gifts. Sign up now!:. More info: Laurie Hopkins.
Food 4 Kids Update!
Your donations of cases (60, 30, 24 items) and packages (10, 8, 6 items) have been awesome! We currently need breakfast items (oatmeal, cereal bars, granola bars), and canned fruits & vegetables. Visit the Information Center or visit us online for more info.
Computer Rehab Needs Laptops
In the last three years, we have placed over 200 computers with families/students in the area. If you have an unused working laptop (running Windows 7 or higher), donate it. Drop it at the volunteer room (across from the church office). More info: Emil Mariani.
GROUPS & CLASSES
2018 Advent Classes & Groups Booklet
Don't miss our great Advent events, classes, and groups! Download your copy of our booklet or pick up one at the Information Center. One of the best ways to grow your faith and connect with others is to attend a group or class. Here are a few we offer. Full listing online.
Classes
–Advent Conspiracy-Can Christmas Still Change the World? Alpha Class Suns starting Dec. 2, 9:30-10:30a, Rm 311 Register
–Food & Theology: Suns, Nov. 11-25, 9:30-10:30a, Rm 221 Register
–This Is My Body—Embracing the Messiness of Faith and Motherhood: Suns, Dec. 9-23, 9:30-10:30a, Rm 221 Register
Groups
–Growing In Faith Together: Weds, 6:30-8p, Rm 309 Register
–Friday Parents Group: Friday, Dec. 14, 9:30-11a, Rm 141 Register
–Sundays at Bread Co: Suns, 8:15-9a, St. Louis Bread Co (14560 Manchester) Register
–Harvest Group: Suns, 9:30-10:30a, Rm 223 Register
Health Groups
–Exerstart: Mons & Weds, 9-9:45a, Fellowship Hall. Pay online and use course number 4572.
–Total Body Workout: Tuesdays & Thursdays, 9-10a, Fellowship Hall Register
–Yoga–Beginning Vinyasa: Thursdays, 11:30a-12:30p, OR 6:15-7:15p, Rm 141 Register
CHILDREN
Family Advent Events
On Nov. 30, 5-8p, it's Family Craft & Movie Night, complete with pizza and 'The Star,' a nativity story told from the animal perspective. It's free! Then, on Dec. 14 at 6p, we're hosting Family Night Out and will visit the U.S. Bank Wild Lights at the St. Louis Zoo. $5 per person (children under age 2 are free). Sign up now. Details online.
PRAYground Needs You
Our 9:30 and 11a PRAYground programs need more Safe Sanctuary trained adults. PRAYground is for children ages 3-5th grade. It is offered during the sermon time only. Children participate in quiet play and our adults act as moderators. More info: email Chessey Brenton.
YOUTH
Alumni Night At Youth Group
Sun., Nov. 18, 6-8p, Old Fellowship Hall
Are you an alum of Manchester Youth? Join us at Sunday Night Youth Group. Eat a great meal, reconnect with old friends, and enjoy part of the program, which will be just for you. No RSVP needed, just grace us with your amazing presence!
Mission Journeys and Spirit Camp
Registrations are open! $50 deposit per youth for each trip goes towards the overall cost. Prices will be determined after 'Night at the Bistro' funds are allocated. We are always in need of adult volunteers for these trips; email Beth Boemler.
MORE NEWS
'Unfinished' Pledges
There's still time. If you haven't made a pledge to keep our church strong, now is the time. If you made a pledge last year, please affirm your gift, or make a special gift above and beyond your current pledge. Go online or return your pledge card, today!
Stephen Ministry Training 2019
Appy by Sun., Nov. 18!
Stephen Ministers assist clergy by offering ongoing Christian care for those in crisis. Training is offered every two years and begins Jan. 8. To apply, email Rev. Stephanie Lendt, (636-200-4705); or Stephen Leader Moe Parisien, (314-482-5555).
Pecans For Sale
The Hospitality Team has pecans for $11 lb. Visit the table in Fellowship Hall on Sundays.
Quilters and other artists wanted!
Be part of an intergenerational art ministry. Help design a series of paraments for our sanctuary. We need experienced quilters and artists to collaborate in bringing this vision to life. Contact Maddie Murphy, Young Adult Worship Intern, to help or get more info.
Order Poinsettias Now
Order Poinsettias to decorate the church on Christmas Eve. They are $16.00 each; order thru Dec. 9. Mail a check, or put one in your offering envelope–write 'Poinsettia' in the memo line. More info: email Corrine Thompson or call 636-200-4724. Specify if your order is in memory of someone. Poinsettias are available for pick-up after the last service on Dec. 24.
Share this: