On-Site Missions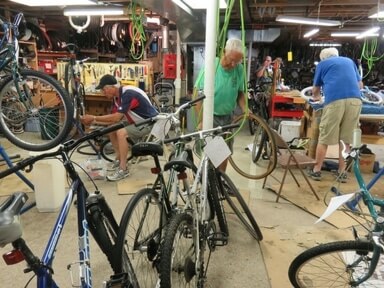 Manchester UMC is a church that strives to follow our scriptural calling to serve God by serving our neighbor. Putting our faith into action is a core value that we seek to live out by helping those who are vulnerable and struggling among us. This happens through a variety of missional programs and activities that we plan ourselves and/or partner with others in order to make a positive impact in our community.
Regardless of your age, ability, or experience, we host several on-going opportunities on-site for you to put faith and love into action by becoming the hands and feet of Jesus Christ in our communities, nation, and world.
If you're looking for an opportunity to serve others on site at Manchester UMC, explore these missional opportunities:
Manchester UMC's Bike Rehab ministry is a group that rescues beat-up bikes and rehabs them using recycled materials. Rehabbed bikes are donated to local charitable organizations, such as Kingdom House and local schools. Bikes are also sold at highly discounted rates, with profits going back into the program to buy materials that cannot be recycled. Bike Rehab events as well as bike donation drop-offs occur at 201 Creve Coeur Avenue across the street. For more information, contact ministry leader Ray Lembke. All Ages.
Bridge Bread is a social entrepreneurship initiative designed to provide job opportunities for homeless/formerly homeless individuals.  The goal is to help disadvantaged and marginalized people engage in a financially rewarding effort that enhances self-worth, promotes dignity, and enables the guests to help themselves. Manchester UMC sells Bridge Bread after all of our worship services each weekend, with all proceeds returning to the bakers to help provide them a safe place to live and a bus pass each month. Sign up online to sell bread during Saturday and Sunday services. For more information about Bridge Bread, contact Dave Andrzejewski. All ages.
Circle Of Concern feeds the hungry and provides assistance to low-income families living in west St. Louis County. MUMC collects non-perishable food donations for Circle of Concern in grey bins near the Church Office. For more information, contact Director of Missions Autumn Dennis.
The mission of the Computer Rehab Ministry is to collect, recondition and distribute computers to the UMC Social Service agencies (Epworth, Kingdom House) in St. Louis. By donating computers to the ministries supported by the church, the ministries can provide their clients to access to current technology. Volunteers are needed to rehab computers- no experience required. For more information, email ministry leader Emil Mariani. All Ages.
Manchester UMC partners with the Parkway-Rockwood Area Adult Education and Literacy/ESL Program to host ESL and Citizenship classes on site. Benefits of classes include learning English in friendly adult classes where you can work on conversation, pronunciation, grammar, reading, writing, citizenship tests, and American customs. Call 314-415-4940 for orientation information and to sign up for a class, or sign-up online. All Classes are free. To learn more about how you can get involved in this ministry, contact Ministry Leader Susie Lashly.
Food 4 Kids is a backpack program that provides students in the St. Louis City and Parkway school districts with nutritious food items for the weekend. Donations of non-perishable foods are needed, which may be dropped off in the blue barrels with the Food 4 Kids logo. Barrels are located in the Chapel, outside the Administrative office and the church Narthex. As of date, ten (10) volunteers are needed fill backpacks every Wednesday from 4:30 to 5:00 p.m. in room 131. Volunteers of all ages and abilities, as well as parents with young children, are welcome. Volunteers are also needed to deliver the backpacks on Thursdays. To volunteer for this mission, please sign-up here. For more information or questions, contact ministry leader Jackie Graham.  All Ages.
The Mary Martha Quilters are quilters of varying ages and abilities who all have a passion for quilting and serving others. Quilts made are donated and auctioned with proceeds going towards Missions. Quilters meet every Monday when church is open from 9 a.m. until 2 p.m. with time for lunch and fellowship. If you have any questions, contact ministry leaders Audrey McKinney or J.J. Hancock. All Ages.
For many in our community, affording even the most basic personal hygiene products is a struggle. Our Personal Essentials Ministry, in partnership with Circle of Concern Food Pantry, offers basic personal care items that Food Stamps won't cover to 600+ families each month. We are looking for donations of toilet paper, shampoo, tampons, razors, and shaving cream. Please pick up extras of these products while shopping for yourself and drop them off in the narthex, or make a financial donation online (note "Personal Essentials" from the dropdown menu.) If you have questions or want to help in collecting items, please contact Cindy Wolk. All Ages.
Manchester UMC volunteers make and deliver over 350 sandwiches each week that are distributed to guests of St. Vincent de Paul Parish. These sandwiches help sustain homeless and at-risk people in St. Louis. All ages and abilities are invited to put their faith into action each Tuesday from 10:30-11:30am in MUMC's Fellowship Hall. All Ages. If you have questions, please contact ministry leader Liz Shuburte.
Ready to Get Started?
If you're ready to learn more or participate in a missional opportunity, please reach out to the program leader or email our Director of Missions, Autumn Dennis, and we'll help you get connected right away!
If you're a Missions Ministry Leader, please fill out the Missions Event/Activity Recap form after your event to help us record the impact of our ministries.
Share this: