Sunday Night Youth Gathering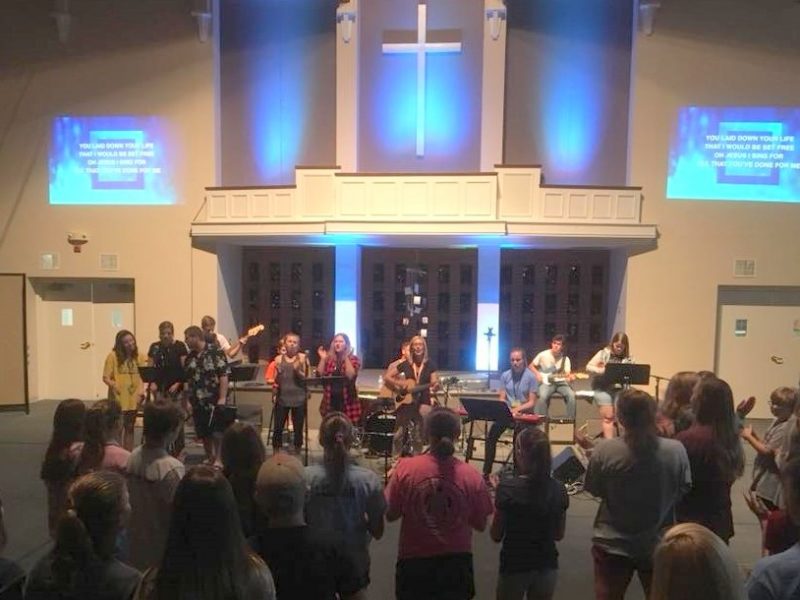 Students in grades 6 through 12 are invited to come and hang out at Manchester UMC on Sunday nights (during the school year) for a really fun evening of food, worship, games and small-group discussions. Youth from a wide-range of middle and high schools come on Sunday nights and the adult volunteers are pretty "dope" from what we hear. Come check it out for yourself and you'll find that church can be a really cool place to start your week!
NEW this year

:
Register for Manchester Youth Group! This registration will replace the health form and move everything online. 
Register here for youth group!
CLICK HERE for Youth Liability Form. Download, print, and turn in to Beth.
CLICK HERE for Adult Liability Form.
Schedule
6:00-6:30: Dinner in Fellowship Hall ($4 per person)
6:35-7:00: Worship
7:00-8:00: Grade-based discussion groups
Sunday night Youth Gathering is a time for youth to relax, reset and grow with their peers and adult volunteers. Youth begin the night with dinner followed by a worship service led by our Youth Director and Worship Leader. After playing some fun games and talking about future events and activities, the rest of the evening is spent  in small groups with their school-aged peers.
We get that it's hard to be the new person. That's why we have youth who would love to introduce you to others, sit with you during worship and games and also go with you to small group discussion time, if you want.
During small-group discussions, youth are guided by supportive adults who volunteer their Sunday nights to assist youth on their faith journey. Discussions topics vary and often time reflect the issues and topics youth choose to discuss.
Adult Volunteer Opportunities
If you are interested in volunteering or have any questions, contact Beth at [email protected]
Sunday Night Small Group Leader
Time Commitment: 3 Hours per week (Sundays 4:45 – 8:00 pm)
You will be paired with another adult leader to lead a small group of youth in discussion about the topic of the night. You will be provided curriculum and materials and are strongly encouraged to attend the preparation meeting at 4:45 for extra support. This role is wonderful for forming deep and meaningful connections with youth as well as growing in your own discipleship. Small group time typically lasts between 45 minutes and 1 hour.
Confirmation Teacher
Time Commitment: 2.5 Hours per week (Wednesdays 5:30 – 8:00 pm, various other times)
You are paired with another adult leader to lead a small group of 7th graders through their Confirmation journey. You will be expected to attend the lecture, service project, or special event with the group and then lead a discussion time immediately following. You will be provided questions and other materials as needed.
Mid-Week Small Group Leader
Time Commitment: 1 – 1.5 Hours per week (weeknights)
You are paired with another leader to lead a once weekly small group about a topic of interest to you or one of our bi-weekly leadership teams. No topics are off-limits. Beth will work with you to develop curriculum and supplies. Everyone has something to teach, and our youth are eager learners.
Substitute
Time Commitment: 1 – 3 Hours per week (Sundays 4:45 – 8:00 pm)
Our leaders sometimes have other commitments, but our youth are always there. Without substitutes, classes have to combine, which no one enjoys. Substitutes are vital to maintaining the health of our small group programs.
Special Event Chaperone
Time Commitment: Varies
We do several special events throughout the year. Some events last 3 hours, some go overnight, some span the weekend, and some are a week long. All are fun and enriching events, and all need adult chaperones in order to exist. Adults will be responsible for supervising, maintaining safety, and assisting Beth in executing a successful event.
Sunday Night Floater
Time Commitment: 2 hours per week (Sundays 6 – 8 pm) on a rotating schedule
These adults are responsible for "floating" during the entirety of Sunday Night Youth Group. They will keep eyes on the hallways when youth leave the large group or their small groups for various reasons. They can also be a second adult if one of the small group leaders has to leave their room for a short time. This role is easy but vital to ensuring proper safety and supervision to our youth.
Special Event Leader
Time Commitment: Varies
NEW THIS YEAR. Youth do many special events throughout the year, and all of them take time to organize and manage. The youth staff needs adult volunteers to step into leadership for these events so that they can maintain a reasonable work load throughout the year. These adults would be responsible for overseeing all aspects of the events, delegating tasks as needed, and communicating regularly with the youth staff.
Snack Supper Cook
Time Commitment: Sundays 4:00 – 7:30 pm, every 2-3 weeks, based on your availability
Our snack supper team prepares and serves a meal on Sundays before and during Sunday Night Youth Group. Our fearless leaders will provide the food and instructions. No cooking experience is required – just a positive attitude and a willingness to provide for our youth!
Share this: